K writes:
After getting a chuckle from your blog post about people requesting blurbs from you, I was wondering if you had a handy list of books that you did blurb.   I've read a number of books that you've mentioned on your blog and discovered authors that I previously hadn't read – I found you the same way
 I read Charlaine Harris' blog and discovered Jeaniene Frost's books and then of course you're mentioned on her blog frequently.  No rush, but I thought I'd ask and pick up some reading material for my upcoming vacation. Love your work and I'm eagerly anticipating Fate's Edge!
Stuff we blurbed….
Deadtown by Nancy Holzner.
What we said:
"DEADTOWN is full of dangerous magic and populated with characters so realistic, they almost jump off the page. I loved this book. Nancy Holzner is a master of characterization and I'll be buying her next book the moment it hits the shelf."
Ilona Andrews, New York Times bestselling author of MAGIC STRIKES
Why we said it:
I really liked the relationships in this book.  Vicky is so refreshing as a heroine and her werewolf boyfriend is hilarious.  So often in UF shapeshifter male leads unfold as follows:  I am Alpha Male!  Rawr! Muscles!  Womens! Smex! I have no depth as a character!
In this book, he is a lawyer.  He is sly, he is subversive, and he is very busy with political causes.  You know the dude has some sort of self-serving agenda.  He keeps trying to get Vicky to come to the forest for the full moon hunting-making thing, and you just know that there is some sort of hidden catch involved.
Nancy has a release coming up.
[button_with_link url="http://nancyholzner.wordpress.com/books-2/" target="" class="" id="" onclick=""]Read More[/button_with_link]
Iron Duke by Meljean Brook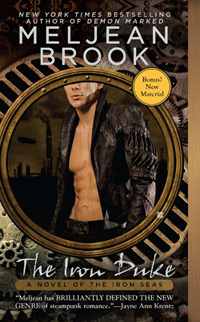 What we said:
"…a stunning blend of steampunk setting and poignant romance – smart, sexy, breathtaking, and downright addicting."
Ilona Andrews, New York Times bestselling author of Magic Bleeds"
Why we said it:
It's one part alternative history with Golden Horde having overrun the world instead of fragmenting and dissolving into the culture of China, one part gritty steampunk, and one part hot romance, wrapped in nanotech.
I really dug it.  And I bloody hate anything that is set in coal-burning London.  (I had the misfortune of actually studying history, and I know the details of what life was like in the Victorian London for common people. It forever killed any romantic notions for me.) Anyway, great book, try it.  Meljean's romances do not run into super-girly territory, so I recommend this even to  most discerning male readers without any reservations.
Meljean also has a new release coming up.
[button_with_link url="http://meljeanbrook.com/books/the-iron-seas" target="" class="" id="" onclick=""]Read More[/button_with_link]
Dead Iron by Devon Monk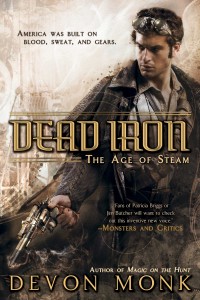 What we said:
Dead Iron is a relentless Western and a gritty steampunk, bound together by wicked magic.  Devon Monk rocks.
New York Time Bestselling Author Ilona Andrews
Why we said it:
I want you to know this quote took forever.  The book was difficult to describe.  It's a Western, but not a Western of cowboys – it's a western of smiths, railroad, and miners that gave me flashbacks to Bazhov's Fairy Tales.  Seriously. I was sitting there thinking I'd see Mistress of the Copper Mountain any second.  I know this doesn't makes sense to not-Russian audience, sorry.
It's Faerie magic at its most vicious mixed with unbreakable will that drove the industrialization of the West.  Because let's face it, it's not cow-herding men with guns who built the cities of the West – it was the gold prospectors, the rail-road workers, the lawyers, the traders, all those people who had the American spirit but do not necessarily embody it in the popular culture. There is love in the book, and murder, and evil brought to justice.
[button_with_link url="http://www.devonmonk.com/books/age-of-steam/dead-iron/" target="" class="" id="" onclick=""]Read More[/button_with_link]
And that concludes the blurbing answer.  Must go finish SB sequel now.