It was good.  My review at Goodreads: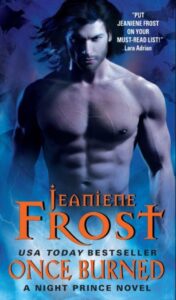 Disclaimer: Jeaniene and I are BFF.

There are many Draculas but there is only one Vlad. Hehehehe.

Loved it. It reminded me of Halfway to the Grave in the best possible way: it has the same blend of action and intimacy. There is a lot of violence, but the focus is on Vlad and Leila. This book is like watching the leading couple lost in a kiss while things are blowing up all around them.
I really enjoyed it.
Tried reading another book in the genre and had to stop.  The hero was obviously a wish-fulfillment fantasy and it had a touch of Toby Keith flare for me.  Toby Keith gets on stage and gets all patriotic, "Yeeeaah, let's go kick their asses."  Toby Keith never served in the military.  Toby Keith never had to fish a fighter pilot's helmet out of the bay with the pilot's head still in it.  Toby Keith's wife never had to deal with deployments and a horrible realization that a war started and your husband might die.   She never had friends come apart, because their spouse is in a thick of fighting, hasn't called or emailed for a month, and his buddy came home in a coffin.  I remember one woman just started crying hysterically in the middle of an elementary school, and we had to very carefully get her out before the kids panicked. And an E8′s wife took her aside and read her the riot act.  You suck it up.  Your job is to hold it together.
Gordon was in when Toby Keith did his whole Chickenhawk song and dance.  The military spouses would sit together – we did a lot of bake sales to help the unit – and watch him on TV from across the hall and talk about how much we'd like to punch him in the mouth.
Anyway, I despise Toby Keith.
So back to the book: the author was never in the military, so his paramilitary outfit guys do some things that just go against the grain for me, like surrendering authority to a student during a lesson.  I got hung up on that and some other things.  I may come back to it.  Not a bad book, just not good right now book.
What was the last book you read and finished or not?